Happy new year! Has it begun well for you?
My December was an odd month to end the year as I was brought to my knees with one of the worst colds in recent history spending two solid days in bed sleeping and coughing and my precious great aunty Peggy passed away back in New Zealand.
The most generous, kind woman I've ever known, it was heartbreaking to receive the call from my dad. Being so far away means it can be hard to realize that someone's truly passed, especially when it had been my goal the weekend she passed to call her and catch up, but the sad reality is that all I have left of her now are the precious memories we shared together and the ability to try and be as wonderful a person as she was.
Overall the month was rather quiet too with lots of friends out of town with their families in foreign lands, meeting in Asian shores where the happy medium between here and there exists and still suffering from the lack of funds prior to getting my job, I kept a low profile. Walking to work was the highlight of the month with so many wonderful sights to be seen, despite the icy conditions out.
Here is the last month of 2014 in photos: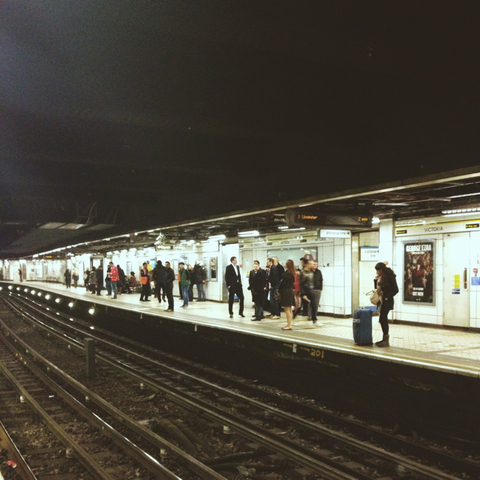 Portobello in the holiday spirit/Sunrise from Earl's Court/Interior/Hip Londoner/Friday evening train waiting/Is there a gingerbread trail?
Early bird/Couple braving the icy conditions/Mayfair night lights/Bright start to the day
Pavlova for breakfast/Sun rising over London/Lines of white/Last morning of the year was grand
The post of the month had to be Eggnog where the lesson of doubling this recipe has to be learned for next winter as it's a perfect drink alone or a great ingredient in baking or over pancakes.
Blog love this month goes to My Darling Lemon Thyme and her Fried Egg Tortilla with Cucumber Salsa, I'd personally like to volunteer for all the cucumber salsa alone. This looks amazingly simple and a wonderful breakfast.
One of the recipes that took my breath away in what was a month of alcoholic winter beverages was this Hot Cider Eggnog from How Sweet Eats, apple season was far far too short and this would be one way of celebrating it's existence.
Food 52 had a perfect article of making a huge batch of shortbread and 5 different ways to use it for any occasion where gifting cookies is required.
USA Today had a list of the best apps for traveling foodies.
Departures published a list of new beach getaways for 2015 that had me packing my swimwear in excitement.