How was your year in the kitchen? Did you try something new that everyone else around you seems to have mastered? Maybe like me, you made your first roast chicken?
And thus we have come to the last post of the year and there were a total of seventy recipes shared on this little blog this year. It seems that number is slightly low for how much time I spent in the kitchen between juggling a life and a full time job.
This was a year of a few favorites to share here, though most recipes now feel like they are all new as this blog has been going for almost four years.
Personal Favorites
It is hard to whittle down those six favorites, but somehow these six are simple and full of natural flavors with a few twists on originals.
Lemon Mousse was one of those recipes that have been made in my kitchen every winter for the last five years and somehow this was the first time I shared it on here. It's one of those dishes that comes together quickly and is zesty and light enough to consume after those heavy winter dishes that warm up after braving the howling icy wind.
Sweet pies aren't really a thing at all in New Zealand. If you're eating a pie, it's going to be filled with meat. That's how we pie and I cannot tell you how much I miss those pieces of my homeland. But since discovering fruit pie's are such a big thing in other parts of the world it seemed only too good an opportunity not to try lattice with the delectable filling of Strawberry and Rhubarb. This pie was bursting with flavor and has definitely been added to the make again list!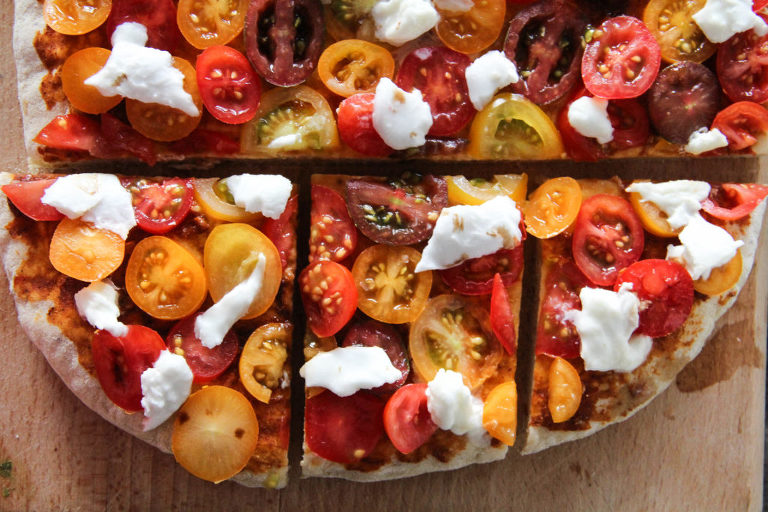 Spicy Tomato Starter
Sometimes fresh ingredients work well to make a dish unfussy while it looks a little fussy. Spicy harissa lays the base for the sliced tomatoes and creamy buffalo mozzarella, an ingredient that almost became a staple in my kitchen this year. This doesn't take long to whip together if you have a pizza base in your freezer, though the base is simple to make too.
Sometimes recipes come to me at the oddest moments and this pie was one. One morning while still adjusting my eyes to a new day the notion of coffee and blueberry pie came to me and not long later this was whipped up. This works in a subtle way the flavors combine and this will impress coffee and non coffee drinkers alike.
This simple homey recipe is a creation with light ingredients in the base and crumble. Honestly, I suggest you give this recipe a go and see how melt-in-your-mouth this is. You'll likely want to double the recipe as this disappeared far too quickly in my home.
In October this chocolate peppermint slice was finally shared. A recipe that had been in the back burner for a while. In fact the inspiration for this recipe came from a bakery I would frequent in Ponsonby, Auckland every Friday aka Treat Day or as it came to be known among our coworkers as Fat Friday. The day no calories matter and you can eat anything after a week of home cooked lunches full of healthy things. I digress, this slice was always so fulfilling and it had been something I wanted to make for this little blog for a long time and it seems everyone who tried it fell in love with it just as I had all that time ago.
Foreign Favorites
Foreign food is a staple on this site and this year there were more foreign recipes then ever before. The below six recipes are a range of the dishes created and shared here and I highly recommend giving one or two of these a go in your own kitchen.
This sweet cake with caramel slivers of almonds on top makes for a slightly different afternoon cake which begins with whipping butter for three whole minutes. That might be the base for this buttery creamy cake which makes it a little different then your usual plain butter cake.
Philly Cheesesteak (American)
This meat and cheese sandwich has a reputation that exceeds it's countries borders. Last year when I visited Philadelphia, the very search for the best Philly Cheesesteak was hard to find a definitive answer for so I went to one of the best places and upon my return found that the craving for another of these had to be fulfilled. Once you make the cheese sauce for this you are ready for a few of these incredible servings of this infamous sandwich.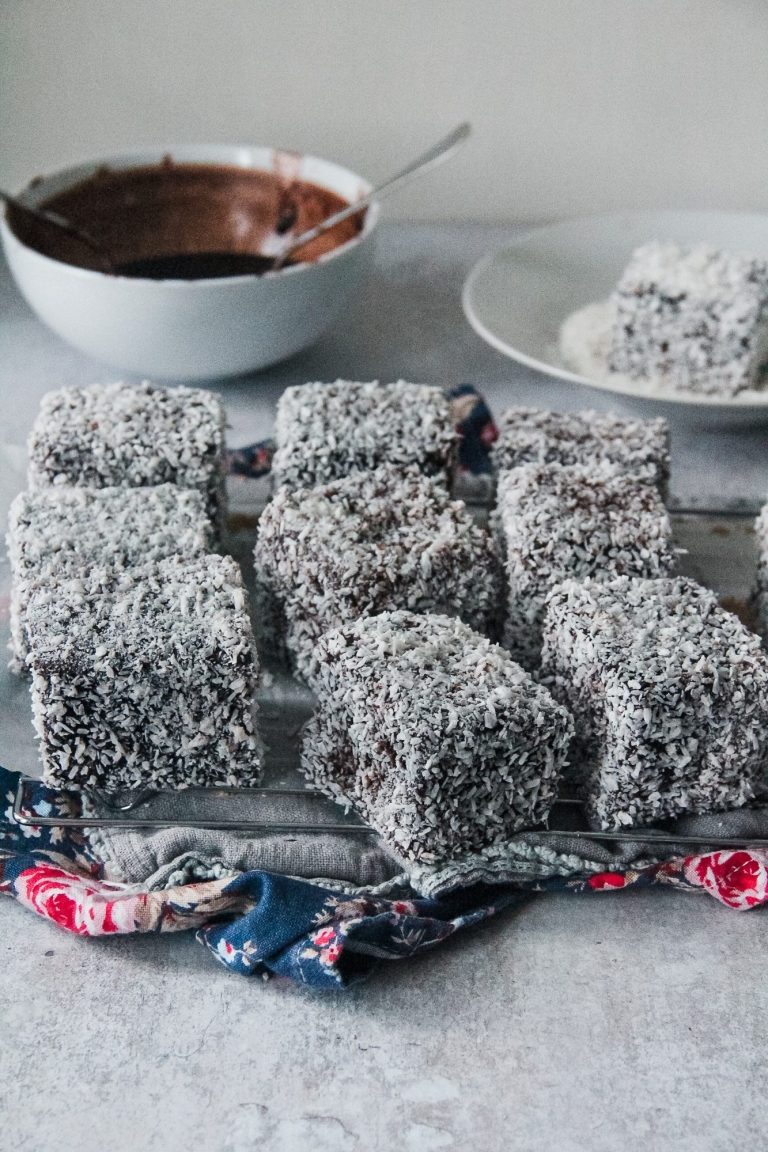 Lamingtons
Lamingtons are apart of the Australian/New Zealand psyche and almost every time I've seen these sold here in London I've bought one. The soft sponge that is dipped in a chocolate icing and smothered with desiccated coconut are not especially spectacular, but they are nice little cakes that are rather simple to make and there is enough in one batch to share around.
Nanaimo Bars (Canadian)
These little sweet bars are so important to Nanimo that the first confirmed recipe sits in its city museum. They don't play with this recipe there and for good reason. For anyone with a sweet tooth is a kind of heaven. It's a little crunchy, a dousing of sweet and it has a lovely chocolate topping. No wonder they cherish it's creation.
Leche Frita – Fried Milk (Spanish)
It may seem odd that a fried milk fritter that is doused in sugar and cinnamon ends up on this list, but of all the foreign recipes made on this blog this year, this little dish still has me salivating. Maybe its the soft pudding like consistency surrounded with a crunch. Or maybe its that never before had I seen, let alone tasted, fried milk and this isn't as unusual as it seems on paper.
Turkish Baklava
When you can buy morsels of this sweet stuff at virtually any Turkish or Persian store, it is understandable to wonder why anyone would give this recipe a go when its a little fiddly and time consuming. Well, some well experienced Baklava eaters said this was the best they had ever had. So it's worth the effort!
The Popular Crowd
The most popular recipes on the blog for twenty fifteen are below. An interesting mix of original and foreign recipes. I hope you enjoyed making one or two of these and if not, I'd love to hear what you want to see more of in the coming year.
10. Choux Pastry – Cream Puffs (French)
These morsels of French pastry that are dipped in chocolate are a great addition to an afternoon tea and they are surprisingly easy to make.
9. Pavlova (New Zealand)
Just remember, do not touch the oven door until the temperature has reached room temperature. This is one of those dishes that is best whipped up the night before which will maintain it has plenty of breathing space in that tightly locked oven.
8.Matcha Blackberry Semifreddo
Matcha was the superstar ingredient in twenty fifteen and this is one dish that has the subtle flavors of matcha accompanied with the tart blackberry in a swirling sweet semifreddo. I wasn't really open to sharing this one as it was so good.
7. Coconut Bread
This gluten free bread with it's incredibly meager list of ingredients is sturdy enough to toast and its a great loaf to enjoy your morning slice in a different way. Plus the eggs add protein before you spread anything on top.
6. Blueberry Smash
This little drink comes together incredibly quickly and is refreshing while incorporating a summer staple. Yes if you want to make a rustic summer drink to please yourself or triple this for a crowd it will satisfy.
5. Native American Tortilla Bread
This is the first and only Native American recipe on the blog, a count I hope to change in the coming year. This has minimal gluten for those with slight intolerance and its a great way to try a different culture's staple.
4. Carne Asada Tacos (Mexican)
The magic of this dish happens in the marinade and if you are well prepared enough then two days of marinating this would result in extremely tender meat to stuff into your Taco's for your next Taco Tuesday.
3. Raspberry Lemon Frosted Cake
Tart berries and acidic lemon come together in this sweet easy cake that tastes like spring with the excitement of summer in a slice.
2. Coconut Cake with Lemon Curd icing
This cake was the celebration of my third anniversary and once again lemon frosting is involved. This cake isn't small and the frosting tops the coconut cake beautifully.
1. Marens-Kornflexkokur – Chocolate Cornflake Cookies (Icelandic)
The most popular recipe is from the land that has left me with such sweet memories and within a month of getting back from Icelandic shores I found these cookies and had to give them a go. They are soft on the inside and the cornflakes and chocolates scattered within make it hard to eat only one of these.
I'd love to hear if you gave any of the above a go this year?
Thanks so much for your support and I'm hoping twenty sixteen will be a year where this blog only grows and I can giveaway more. Keep your eye out on the monthly saw/ate/read posts for what will be on offer.
Thanks again, may your new year be a great start.