And in one blink it was gone. Well maybe not quite for me, but it did go faster than anticipated, in usual fashion might I add. February was a mixed bag of things and there was even one dumping of snow to last through a morning.
Seeing kids throw snowballs at their parents as they walked to school made that slippery white stuff seem magical, even in the city. Catching up with someone this past weekend who I hadn't seen in almost a decade was the best feature of an otherwise uneventful month. It was nice to speak with someone who knows a piece of my past and talk about us and those times.
Still reminiscing about the beauty of Istanbul, it was on my mind a lot this month with a few more photos shared on my Instagram. Otherwise, here is my month:
Homemade nachos/River Thames morning walk/Osso Bucco by some kind friends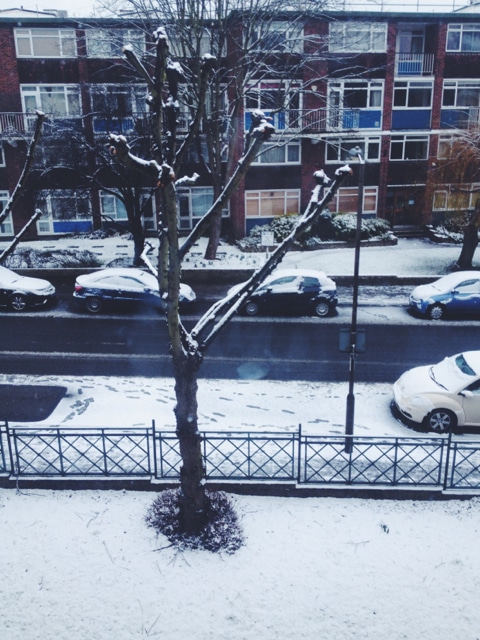 The snow outside/Where the reflection ends and the water begins/Greens and grays
Roadside puddle/Sliver of light/The city
Cauliflower pizza base/Avocado on rye/Magic hour sky/In order to be irreplaceable one must always be different/Friday's be like…lots of smiles
Some celebratory drinks at The Cow in Notting Hill turned into dinner and everyone at the table was impressed with their meal.
The dish I couldn't get enough of this month and may have made a few times is Lemon Mousse with it's airy tang so on point with the cold.
Blog love this month goes to Smitten Kitchen and her exciting news of a new human and these Pecan Sticky Buns I'll be dreaming about until I give in and make them.
Inspiration came in the form of this Cranberry Porridge from My Blue and White Kitchen, obviously the obsession with breakfast isn't letting up soon.
If you are currently writing up your bucket list and have always wanted to take a cooking class on your travels than USA Today has you covered.
A list of the top five road trips in the world was published to tempt you into including the road into your next adventure.
Clicking on this article lead me to more informative sites to get connected with the locals when you are traveling.
I hope your month was great, I'd love to hear about it in the comments below.