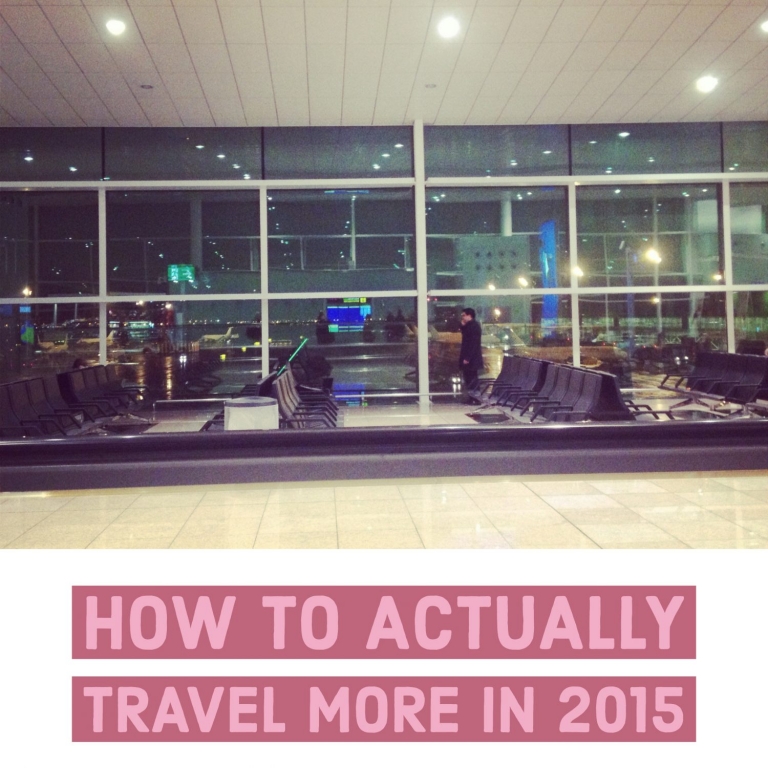 Within the 'Happy New Year' wishes and endless conversations of resolutions, one that we usually want for a new year is to see more of this grand globe we get to live on. This is of course a difficult task because travel is determined by budget, holiday entitlement with work and any number of personal circumstances that can mean life is getting more in the way of what you actually want to be doing.
January may be the cheapest month of the year to buy flights and trips, but traveling more doesn't have to necessarily mean every adventure you take is overseas and it also doesn't have to mean you require a large budget to get out and explore more. Simply put, it's really about priorities, focus and determination to change a few habits. It doesn't have to be impossible to get out and explore more in 2015, so here are a few tips to really make the most of this new year.
1. Spend Less Now to Spend More on Travel Later
This may seem obvious, but buying breakfast and that morning coffee adds up to an amount much larger than what you would spend on doing this at home. Or going out for dinner with friends a few times a week is much more costly than cooking dinner for them from the comfort of your home. Let's also take a moment to consider how much money gets spent regularly on alcohol, sure it may help you relax after a stressful week, but buying less of that now means you might be able to enjoy a beach side beverage from the pennies you have saved later.
If you simply take $20 away from your weekly spending and saved it away for travel, you'd have $520 in the bank after 6 months. $20 may not seem like much right in the grand scheme of things, (nor does that daily $3 for coffee), but it all adds up and weighing up your spend will give you more money because cutting back is possible. So sit down and list the things you spend your money on and see how much you could actually save, open a separate bank account where a certain amount of your pay goes automatically into and soon you will have forgotten about that extra little bit of money you once had in your spending budget.
2. Find Free Local and Foreign Events
Most cities have a bunch of free events each year, in fact, there are probably a few per month that mean you can keep your busy social life going, whilst also saving money in the process. Keep an eye out on the local schedule to make the most of things to do and see and make an effort to get to them as they will surely help you experience your area in a way you wouldn't ordinarily enjoy.
With cities being the place where most of the global population lives, there will surely be free events on offer at your destination so it is best to  search out what might be happening during your visit. Stopping by the information center upon arrival is the best stop to see what's happening locally and might also allow you to enjoy a few other free options available, such as walking tours. These events will mean you to get interact with locals, giving you a chance to experience the layers of your location more fully so they are definitely worth the effort.
3. See Travel Differently
If your budget can't take a $20 deficit per week thanks to bills and expenses, you don't need to get on a flight to see more of the globe. A swear or savings jar where your loose change can be thrown in and the dust gathered over half a year can be put towards gas for a weekend road trip or catching a train to another city. Your own backyard likely has amazing things to see and discover and getting out there can make you appreciate it that much more.
Not all exploring has to be done in some far off land and with the world being so multicultural, you'll likely not have to go too far for some foreign meals and traditions. Seeing the world with an open mind will help you to find the opportunities to experience it more fully whether close to home or in another land.
4. Seek Out Last Minute Plans
With most travel being booked online you have the ability at your own fingertips to see how expensive a trip will be by either planning way in advance or checking out last minute sites for deals that are available in the near future. Sometimes these are reduced by 70% meaning you can get the most for your money and still go ahead with your beach/hiking/city break plans.
While this means you'll have less time to arrange visas and pack your things for the adventure, it will also mean you'll have more time to gather your funds together so this option is definitely worth trying, especially if your dates are flexible.
5. It's Not Impossible
Okay, so you are awful at budgeting, hate to cook and the idea of planning a last minute trip puts you into a state of slight hyperventilation. Sit down with a paper bag in hand and think about how much you really want this, if you didn't go out and experience all those lands on your list how would you feel in five or ten years.
Prioritizing your time and resources isn't impossible if you truly want to get out there and experience more of this globe. It's really about making room for those experiences by missing out on say seeing a band you wanted (unless they're your favorite) or skipping the dinner parties/dress up parties/drinking excuses that you have been used to going to all the time.
Without a trust fund and relying only on the budget at hand, I have had to forgo a number of things with friends or coworkers to work towards the goal of setting foot in another land or simply affording gas for a road trip to an area only an hour or two away. I know it's worth it, the smiles on the day proved it and the memories etched into my mind have only made those experiences feel sweeter in reflection.
By the end of this year you could have a handful of wonderful adventures with a few changes to habits, a little forethought of budgets and setting aside whatever funds available and seeing travel with an open mind means it isn't impossible to make this year the one where you get out and explore more.