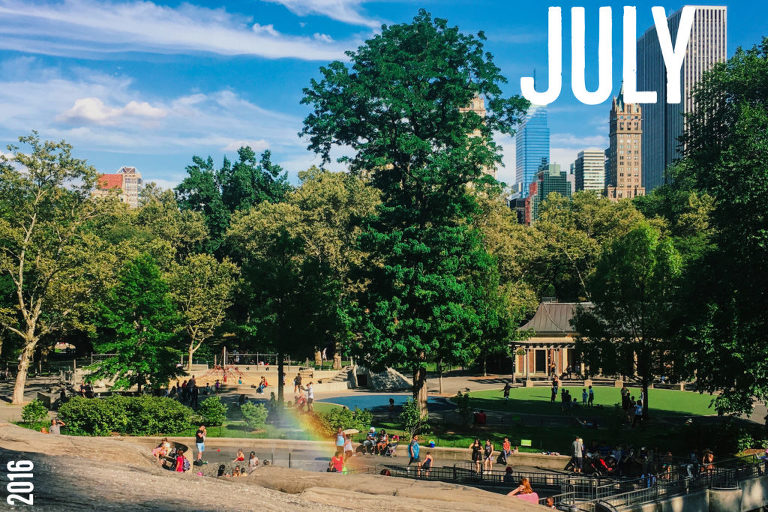 July, you sweet nauseatingly hot month, thank you for existing. Still a lone wanderer, July was spent in the hot heat of Mississippi, a sticky night in New Orleans that was suffocating and the remaining month in New York City which also at times felt like it was too much. So tell me, how was your July? What adventures did you get up to? Do you have stories to share in the comments below.
Hot NYC days/New Orleans streetcar/Mississippi swamp/Bar views, NYC
Fishing in Prospect Park/Central Park lake/Skating joy, Brooklyn
Beignets, New Orleans/Schmear and lox, NYC/Tuna Taco, and Smore Bar at Smorgasborg, Brooklyn
There was just so much eating this month. Like Beignets for breakfast in New Orleans at the ever famous Cafe du Monde. A Saturday morning line for a bagel was worth the forty minute wait for my schmear and lox from Ess-a-Bagel in Manhattan. After some friends basically made me promise to attend Smorgasburg, I did so in Prospect Park and was not disappointed. The Takumi tuna taco was as delicious as advised it would be from foodie friends and the Butter and Scotch Smore Bar is caramelized right in front of your eyes for a delicious treat you might a second helping of.
Recipe of the month goes to this Cherry Ripe Cake if you have an event you are baking for or you just want to use up the cherries in your kitchen.
Did you ever have a vegetable (or two) you didn't like as a kid and you still don't really like now? Cauliflower is one of those, but The First Mess gets Blog Love this month for this Cauliflower Salad with Nectarines and Pistachio Dukkah.
Do you consider a granola bar healthy or unhealthy? A NY Times article had a very interesting article on what nutritionists and the public consider healthy and it seems there are some varied opinions. This is really worth a read if you want to educate yourself on what you eat.
A sweet article on being obsessed with Strawberries, I didn't even know there were over one hundred different varieties.
This year marks the 100th Centennial for American National Parks and CNN had a great piece on 100 National Parks for those unsure of where to start.
The Everygirl published a great article on Why you Should Have a Local Bucket List.