Typing the words June into this post felt surreal because the travels I've been on this past month were planted in a small seed two years ago and here I am in my last summer of my twenties hanging out with some of the most important people in my life. So how was your June? Please share the good, bad and ugly of your month in the comments below.
June was a whirlwind of Los Angeles for the first visit in three years, Idaho, Montana, Wyoming and lastly Austin. There was a lot to see, do and at times eat so here are my photos of the month:
Joshua Tree/Watching their friend go big, Venice beach/BLAT, Mornings Nights
Yellowstone surreal trees, Wyoming/Glacier National Park, Montana/Falafal Bowl, Sage, Los Angeles
Lined up, Venice, California/Steam, Yellowstone National Park, Wyoming/Burger delight, Cafe Gratitude, California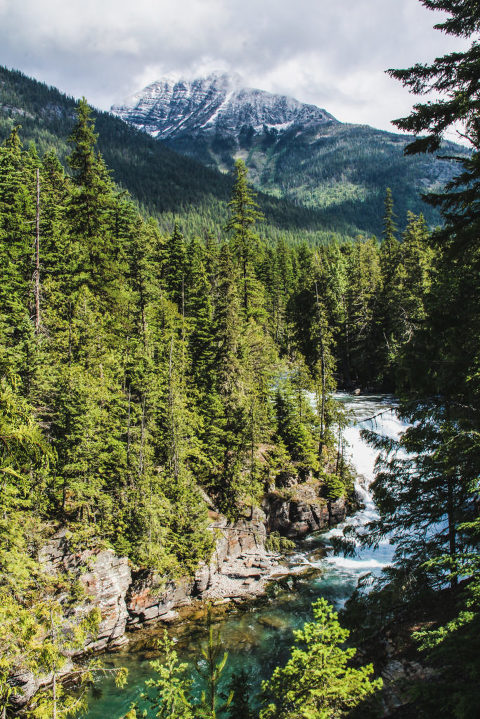 Glacier National Park, Montana/Towards the rocks, Joshua Tree, California/Hopdoddy dinner, Austin, Texas
Beside Lake McDonald, Montana/Coconut Mint Chip Whoopie Pie flavor to die for
This month I fell absolutely head-over-heels in love with Twenty One Pilots. It's hard to pinpoint their sound down, but I've not been this obsessed with a band since I was a teenager and their music, talent, lyrics and personalities are worth being fans of.
When in California, do as the Californians and eat a little vegan food and I did just that at Cafe Gratitude with a wonderful burger and then a few days later at Sage Organic with an impressive Falafal Bowl that I would go back to have all again. Stopping into Salt and Straw, the nicest thing on the menu happened to be vegan (Coconut Mint Chip Whoopie Pie, it's like they got inside my head and made this delicious flavor), so I'll take that as healthy and have two scoops thanks.
When not eating vegan in LA then the BLAT from Mornings Nights was probably the best I've had in my life and I'm already plotting my return there. While on the road I relied mostly on Trader Joe's Just Mango Slices in between fruit and granola bars because I spent an average of six hours each day driving so there was very little time to sit down.
Austin serves great food, maybe its the queso that I'm in love with, but my lovely friends took me to some spots worth visiting if you are in town. Papalote was a great taco spot we arrived to and within a minute there was a line out the door, showing just how good their food is. After a couple of lengthway laps at Barton Springs we finished our weekend at Hopdoddy's which if you're a local, you know that the lines here can be extremely long and for good reason.
Blog love goes to Smitten Kitchen this month with her Consummate Chocolate Cookie recipe which is an original NY Times recipe, but the minute this image came across my Instagram I took a screenshot and a mental note that I have to make these.
Recipe inspiration comes from Honestly Yum with their Apricot Oat Bars, these are something I would love to snack on!
Food52 had a great list of 20 of their speediest, swooniest summer meals to keep you out and about and not stuck in a hot kitchen.
Though it is technically not an article from this month, this article of What we learned after traveling a year with 75 Digital Nomads is worth reading for the lessons alone.
If you have a bucket list of places to eat in your lifetime, then Magnus Nielsson's restaurant should be near the top.
Buzzfeed's 10 Mouthwatering Buddha Bowl compilation is worth looking at to create an interesting lunch.