One of the hottest or rather most popular countries on the planet right now is Iceland. A majestic land of volcanoes, waterfalls and lots of mountains it is only a 3 hour flight from London, though it feels like it could be at the ends of the earth and almost is.
With it's incredible scenery and the fact that 25% of Iceland is active volcano, driving around the ring road or highway 1 of this land with 330,00 people has some tough driving and a few tips for a trip there are essential.
1. Iceland is not a land for novice drivers
With terrain that leads through mountains where the wind can make it hard to see the road and the ice below the tires make the asphalt white beyond recognition of where the road begins and the snowy edges end you cannot be someone who has got their license in the last couple of years and only driven in the city.
There are points where you have to drive on unpaved roads that while smooth do require a little experience or common sense to avoid any mishaps.
2. The roads are narrow
With barely an edge on the roads you will find times where you need to slow down to let a rather large truck or bus go by. Between the edge of the road and the yellow markers is minimal space (a couple of inches often) so if you are driving down a steep road a little too fast and a truck is coming up the other side and you don't allow enough space you could veer a little too close to the edge and loose a wing mirror (not that I'm speaking from experience here).
The outer road lines are usually where the road ends and often there aren't places to pull over to grab a photo or enjoy the scenery, but the beauty is in this scarcely inhabited land that you won't often have much traffic coming along in isolated places (this is how we found it in spring, I imagine the peak season of summer is a little different so always play on the cautious side).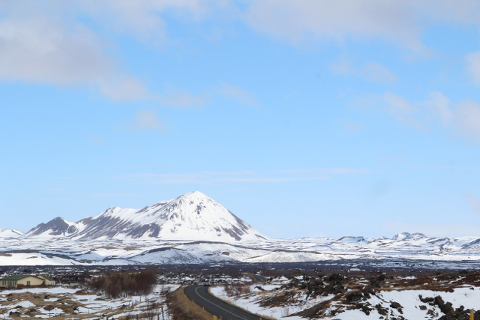 3. One lane bridges are in vogue
There are so many one lane bridges, that you cross a few in the span of a 30 minute drive and this means being really aware of your surroundings. With the narrow roads and short distances between the sign advising of the bridge and the time needed to stop its best to avoid distractions as much as possible.
The law in Iceland is that the car closest to the bridge has the right of way and there are a number of bridges where you cannot see if a car is coming from the other side so it's often best to slow down and progress slowly.
4. Certain roads are impassable for most of the year
The winter of 2014/2015 was a long arduous one for Iceland and this meant a blizzard had happened in the north during the last week of April. 2 years ago a friend of mine experienced blizzards at the end of May so roads won't necessarily be navigable because it's May or early June. This means that the vast majority of inland roads are simply impassable until the summer months.
It's also wise to check the road conditions and the weather for the locations you are going each day as there may be closed portions of road that mean you will have to detour to your destination. The Iceland Met office is the best place to stay up-to-date on what is happening where (it also has a Northern lights forecast).

5. There are more waterfalls and mountains than you'll know what to do with
Literally a foss (Icelandic for waterfall and much more fun to say) can be around every corner. The two most famous are Gullfoss and Seljalandfoss. Gullfoss is on the Golden Circle route and clearly marked, only 20 minutes from the Geysir. Seljalandfoss isn't spectacularly unique except that you can walk behind it when conditions allow (our visit in early May meant it was too icy and the path was closed off).
Whilst they are without a doubt the most famous, the truth is that just from the road you will see probably 20 more waterfalls, some in the distance, some behind houses. Truly so so many and each time there is something a little magical about spotting one.
There will come a point when maybe on day 3 or 4 where you will say lethargically "there's another mountain." My dad stated at one point that it is a "mountain factory," and that isn't an understatement! Each corner you come around leads to closer views of mountains you could see from afar or mountains that had been beyond view until the asphalt leads around another angle.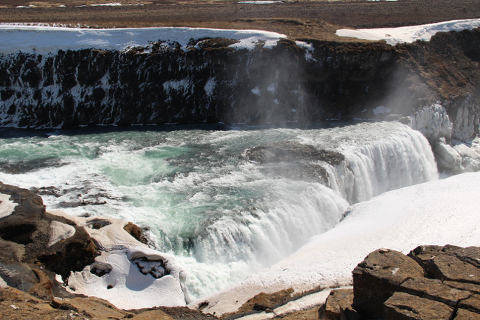 Iceland is a majestic country with great roads to explore for the many many tourists making their way to it's shores and a journey around Highway 1 with a few detours to the other pieces of land this famous road doesn't come close to, are worth exploring also.
Come with some experience, watch the edges of the roads, look ahead for bridges, check the forecast and road closures before setting off and enjoy the scenery. There is so much to see that you want to enjoy all that you can while you're there.