My last night of the month followed the last week of the month, watching re runs of Friends with the wind whistling outside. Not bad for the start of the most unsettled season amidst lighter nights out and an exciting couple of months ahead with friends, family and travel planned.
March was busy from start to finish, in the kitchen there were a lot of sandwiches and outside it there was a few new places of cuisines tried in varying parts of this vast city.
How was your March? What was the most memorable part of your month? Here is my month in pictures: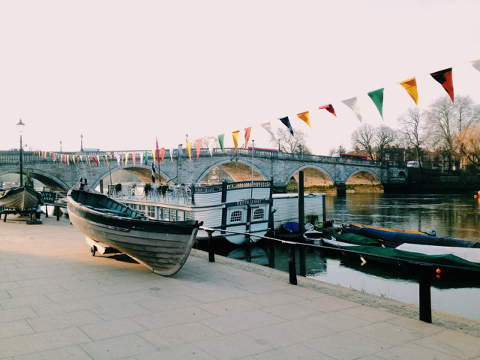 Spring blooms/River bunting/Choices at Hawker House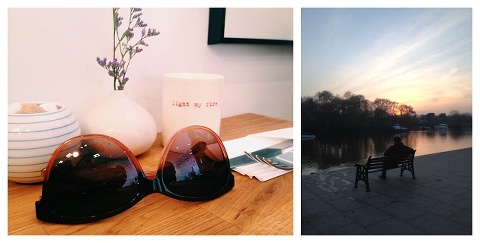 Mother and daughter's quiet morning/Relaxing on the river/Light my fire/Watching sunset
Daffodils above/Sights of Notting Hill/Spring colors
Late afternoon colors/Spontaneous plans/Danish brunch/First time Nepalese
On a casual Saturday morning, my friend and I were drawn into Snaps and Rye, a Danish eatery in Notting Hill. A couple of friends walked in and ordered some food and the next day we were all plotting how to get back there, the food is well priced and so so tasty.
Trying Nepalese in my local area of Putney was delicious, the menu is varied for those who aren't very acquainted with this cuisine. Munal Tandoori fun servers and tasty food if you're ever in the area.
With Hawker House down to it's last weeks for it's winter market, it was worth the effort to get there with incredible food with lots of people enjoying the three floors of food, drink and company. We devoured the steamed sandwich buns and incredible tacos! Bring cash for this place.
Without a doubt, the most addictive thing in my lunch box this month was these Raw Chocolate Caramel Bars, perfect for a filling morning snack or last minute breakfast when you wake up late.
Blog love this month goes to the ever talented Sydney from Crepes of Wrath with this Creamy Peanut Butter Pie, yes yes yes, I'll have a slice now and one to go thanks.
Recipe inspiration came in the form of these Harissa Garlic Knots which look amazing and I highly doubt eating just one would be enough.
Bon Appetit has a list of spring desserts to enjoy.
If you need some tips to shake up your kitchen meals than Bobby Flay has a bunch of tips that you'll likely enjoy.
Here is a short and sweet article on the best time for photographing the scenery anywhere and it involves an alarm to beat sunrise.
For the best packing tips, CNN.com has you covered.
An artwork on a bagel breakfast is just the kind of thing to add to your home.
If you have someone who loves to travel and a sweet print 'she believed she could so she did.'
One of the most inspiring short reads this month was from The New York Times and an article on micro-adventures, finding ways to have adventures in your own backyard. It might make you reconsider how else you can connect with the world outside your neighborhood.