How was your month? What was the best thing that happened to you?
For me, no other May will ever quite live up to the traveling and places I got to see and experience this previous one that has now ended and brought me back to reality. There is still so much to be said about everything we did and saw and I'll try my best to share those in the coming months.
Five countries in thirty one days is a lot to process and there.are.just.so.many.photos to share with you. But, for now, lets just get a peek into my month with a few photos and the best of what I found online.
Tjöruhúsið, Isafjörður, Iceland/Geysir, Iceland/Brights, Lisbon, Portugal
Nyhavn, Copenhagen, Denmark/Somewhere off highway 1, Iceland/Malmo in Bloom, Sweden

Cairns, Highway 1, Iceland/Blue Lagoon, Iceland/Iceland Horse, Hofn, Iceland/Jökulsárlón Glacier Lagoon, Iceland
Vik Photographer, Iceland/Botanic Gardens, Copenhagen, Denmark/Surfer, Peniche, Portugal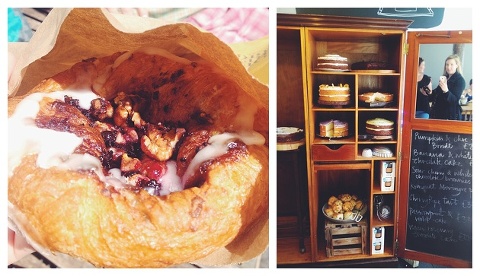 White Out, Iceland/Danish Pastry, Copenhagen, Denmark/Cakes, Edinburgh, Scotland
Blog Love this month goes to Bon Appetempt and this Vanilla Celebration Cake which looks great and sounds like it tastes even better.
Blog inspiration came I am Food Blog and her Chocolate Coconut Pancakes, these look like they would hit the spot with my hankering for pancakes.
Conde Nast Traveler published a list of the best US cities with first impressions and Savannah (one of the best cities I've been to is included, it's official, visit this unique gem).
While spending two days at the beach in Portugal in a small surfing town, there were a number of schools offering to teach people how to surf so this list from Outside Magazine of serious surf getaways for girls is perfect for those interested in taking up this addictive sport.
There's a breezy feel to this bright and positive print which is perfect for lemon lovers everywhere.
There is something so innately cute about this Travel art print that it spurs me to book my next trip, especially with that font.