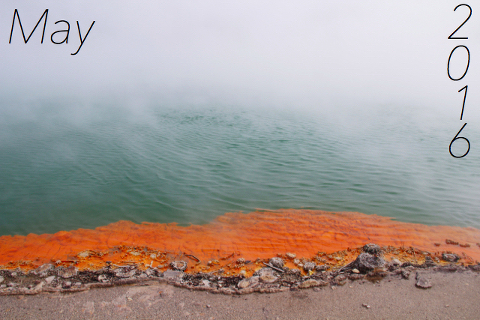 Friends, how are you? How is life? And how was your May? I can't believe I am saying that, its unbelievable how fast this month swirled by, but what a whirlwind of sights and catching up with new and old friends and yesterday was already been a loong long start to June with an 18 hour journey from Auckland, New Zealand to Los Angeles for some sun.
With so much to see, there was so many good images to choose from to share here, plus a couple of great recipes, articles and one interview with a comfort food master. I'd love to hear how your month was in the comments below:
Champagne Pool, Wai-o-tapu, New Zealand/Redwood Forest, Rotorua, New Zealand/
Yosemite Valley, California
Golden Gate Bridge at sunrise, California/Yosemite welcome, California/
Autumn sunrise, Taranaki, New Zealand
Morning Boarder, Taranaki, New Zealand/Early riders, Kariaotahi, New Zealand/
Cruisin, Santa Cruz, California
When you're trying to get someone's attention, Gemstone Bay, New Zealand/Filthy Chai/
Noble Folk's heavenly Peach Pie
With all the traveling around, I got to discover different places to eat this month. After a sunrise hike in San Francisco, I stopped by the very popular Zazie, which did have a line as it does most days because this is known for being a great brunch spot. Further north in the wine country town of Healdsburg lies a small ice cream and pie bar that blew my mind with the delectable Peach Pie, Noble Folk is worth driving an hour out of your way for, trust me! And in my small town in Pukekohe, New Zealand is a healthy little spot that does Chai Latte's three ways which I, of course had to take advantage of with a Filthy Chai or a chocolate chai over some avocado toast at Yakety Yak.
Kladdkaka has an unusual name for us English speakers, but this easy and fudgy Swedish chocolate cake definitely wins recipe of the month for me.
Blog love this month goes to Brooklyn Supper with this Stuffed and Sauced Sweet Potato recipe which beat out another recipe that I was going to shortlist. Basically, both of these should be on the 'cook list' in your kitchens.
Recipe inspiration came from The Broken Bread with this delectably looking Coconut-Rhubarb Bread Pudding, this is as good to make now as in the fall, basically it could become a summer staple.
In case you missed tips on how to improve your homemade burgers and a great noodle recipe from Dan Seidman then here is the interview.
Buzzfeed had a great article to get you excited for outdoor summer parties with 15 Easy Desserts You can make in a Muffin Tin.
If you're sick of lots of dishes after dinner then Popsugar had a great list of 35 1 Pot and Pan Meals to keep your dish washing to a minimum.
Bloglovin had a great list of 20 Travel Hacks You Should Know This Summer with succinct advice for anyone embarking on an adventure this season.