Prior to the very long hiatus of this blog, my monthly life was shared here and this month felt right to share what life looks like in my corner once again. It was a busy one with us moving into a friend's place for a short time, making time for date night and selling most of our furniture between Game of Thrones nights and making the last few dishes to share here from our kitchen.
Here is the May of twenty nineteen in my neck of the woods.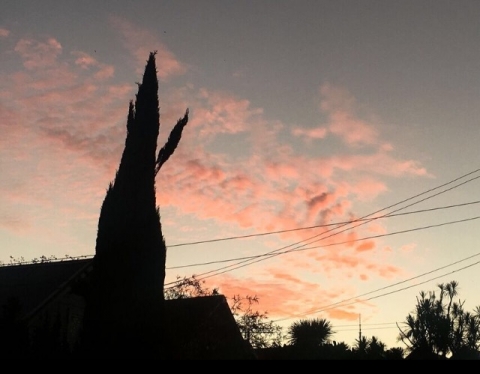 Obsessed with: Chernobyl
Being born only nine months after Chernobyl – this story has always fascinated me. Particularly because if circumstances had been different I would have been born and raised in Germany. This show had me hooked from the first few moments in and there is a very real reason it's the highest rated miniseries ever.
It's a harrowing watch with each episode bringing a new stomach churning reason. Your brain might have a hard time remembering this is real because of how apocalyptic it all was in it's horror.
Reading:
The Atlantic published an article entitled 'I Broke Breakfast' about the short history of how breakfast has changed over the last century in America and how the list of foods appropriate to begin our day  have narrowed down in a way no other meal in our day has constraints put on them. Best quote from the article:

The BBC has been doing a history on specific dishes and the Origins of Caesar Salad is of particular interest personally, when trying to make meals as authentic as possible here. You'll be surprised with it's country of origins. Loveliest quote in the article:

Social Media Love:
With so much talent on Instagram, I want to share one account each month I'm loving for their bright images and in particular this month I was won over by the VEGAN Caramel, Date & Fresh Ginger Self Saucing PUDDING. @gatherandfeast from Ashley Alexander is a place filled with beautiful images and beautiful recipes and is worth a follow and plenty of double taps.
Eating at:
This Auckland gem is worth the ratings it gets. Since going last year, I have returned several times to introduce this to a number of friends who have all fallen in love with it. Go for the Curry Chips and stay for the Dahl or Butter Chicken…you'll want to go back.
This place has been in the city for a while and is a great little spot tucked away from Queen Street where you will find good food and great cake. Go for the tapas and stay for the Buttermilk Chocolate Cake or Berry Custard Cake (don't make me choose between them).
Located down Drake Street, this beautiful cafe also holds a gallery and is the type of thing that should exist in more places throughout Auckland. Go for the coffee (or hot chocolate) and stay for their Cinnamon Brioche or eggs and soldiers.
This was our local, until moving this month and it has a truly unique menu that brings hoards of people in from early until closing. Go for the drinks, stay for brunch (honestly, have had so much from this menu and can't pick just one thing…it's a revisit cafe for sure) and leave with something from the counter.
Seasonal:
Previous May recipes from this blog to make in your kitchen include:
Rhubarb is the ultimate entry to the bright hues of longer days so these meringue nests with custard and rhubarb are beautifully seasonal and satisfying.
Turkish Cilbur with it's yolky poached eggs on garlic yogurt is a great May dish for anytime of day, with the welcome of addition in cooler breakfasts being thrown back into the mix.
With the weather still being very much changeable, you might have a hankering for a beverage that will warm you up and cool you down at the same time and Kentucky Mule has you sorted with bourbon, ginger beer and ice. It's a great drink to unwind with.
How was your May, friends? What intrigued you and kept you busy this past month?