The oft gray skies of Dublin may be drenched by pouring rain, but within that exists a population of smiling, kind and welcoming people which will make you glad you made the effort to come to the Emerald Isle, even if its only brief.
The beauty of Dublin is that you can walk to almost all the vital sights within a few hours, though some may require that you spend more time exploring those sights once there so while 48 hours may not seem very long, you could successfully tick off a lot of sights, eat some great food, including Irish Brown Bread (recipe on the blog tomorrow for when you want to make it in your own kitchen) and hear some traditional Irish music. Yes, you can save sleep for another time because 48 hours in this city will likely enthrall you too much to want to get much rest anyhow.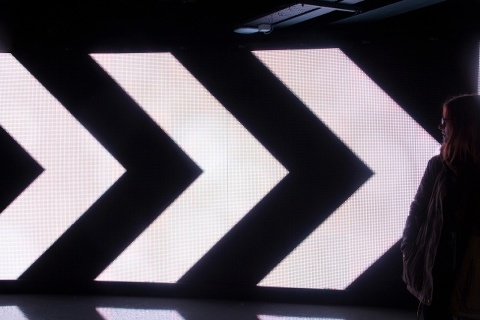 Sphere within Sphere by Pomodoro, Trinity College/Down the River Liffey/Spectator at Guinness Storehouse
One of the must stops is the Guinness Storehouse, with the top floor reserved to redeem your free glass of Irish gold and a view of the city to accompany, it's like a cherry on the sundae of Guinness interactive floors (see the note regarding pre-booking tickets below).
Honestly, while wandering through this building, I felt awed by how detailed and different each floor was so you don't want to rush through your time here. This place feels like Willy Wonka for grown ups and you might even be as lucky as we were to hear some delightful Irish music in one of the bars.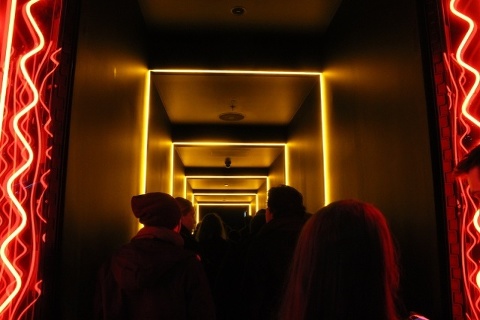 Playing with barley/Entering the tasting room/Advertising campaign's play on time
Dublin Castle is one of those stops that will bring you back to how historical this city is and Dubhlinn Gardens behind Norman Tower is not to be missed, even if it is raining, you'll enjoy the varied view of the castle and it's surrounds.
Chapel Royal and the Norman Tower, Dublin Castle
Visiting a college while in most cities isn't something on the to do list. Going specifically to a college to step foot in their historic and iconic Library seems even more like an unusual offer that Dublin stands out from other cities with. Trinity College Library has seen the changing of time over centuries and its interior has been featured on countless movies, but walking through that wooden building surrounded by books would give you one little bit of peace away from the music and Guinness. Unfortunately for me, it was closed during my visit so check before you visit so you don't miss out.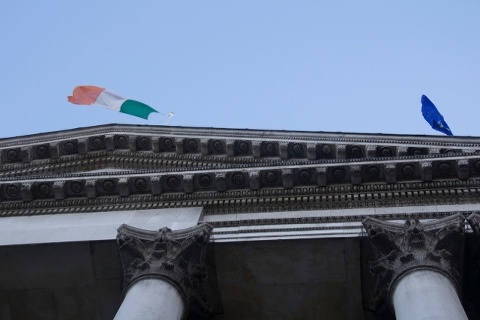 Trinity College/Flying the flag
One of the worthwhile things to do after seeing and exploring O'Connell street, the heart of the city is to walk over one of the many bridges that stand above the River Liffey, it gives the city a new perspective between the gray buildings.
Beside the River Liffey
After all this wandering you might want to stop into the oldest pub in Ireland called The Brazen Head for a bite of traditional food and some music to dance it off afterwards. This pub has multiple rooms and a covered outdoor area so keep walking if staff tell you there are tables in another room. If you're drenched and hungry from a downpour, as we were, this will be a welcome stop.
Dublin with gray and blue skies overhead
Note:
The first stop for anything and everything is Dublin.
Dublin has a long and varied history and there might be better ways for you and your to spend your time exploring this city, here is a great list of top attractions to visit.
Alternately, there is also an Insider Tip list that will prepare you well ahead of stepping foot here.
Thankfully we prebooked for the Guinness Storehouse and we avoided the long queues that await those who don't prebook. Highly recommend doing this to save yourself some time when you visit.
If you also love whiskey then you should add the Old Jameson Distillery to your list.
Oh and don't forget an umbrella, rain boots and a solid raincoat.