Today marks seven years since my first post…since beginning the journey of having my own little piece of the internet. It has been a learning curve, one that can challenge and most definitely frustrate (when you do not have a coding background, website hiccups make learning a quick task).
Somehow, even with the year-and-a-half break in between, this website has been an almost daily piece of my life in the past seven years and has led me to meet and connect with people I likely would have never crossed paths with and introduced me to so many dishes I hadn't imagined I would eat.
It has also been a learning curve when it comes to making food and has led me to discover a few things, so to mark this anniversary it seems right to sit back and share seven things I have learned in my kitchen:
1 – Recreating a dish from a memory can be more satisfying than making it the 'traditional' way
When it comes to memories, our minds can be a bit deceiving, but they can also lead us to finding 'traditional' recipes by giving us the bones to work from and kinda throw every other part away because we know what we ate. Only we can recall the weather, how we felt, who we were with and many other details that are ultimately personal.
When it came time for me to share the recipe for Huevos Rancheros, it was made difficult because no recipe could be found that quite compared to how fresh the meal consumed on Mexican shores was. The task was then to remember the details of the dish and make it my own. Often the case with some cooks is that they take the basics and make it their own and you should take those memories and recreate the dishes you've tasted as they were.
2 – A local regular can become your seasonal staple
Some cuisines have famous dishes and will almost always appear on lists of the 'top 20' dishes and the French have a fair number, one of which is Cherry Clafoutis. Without this blog I would have likely never discovered this dish, and if I had I'm not sure it would have been made swiftly, but Cherry Clafoutis is a mainstay in my home with each new summer that rolls around now.
3 – A childhood favorite can be better when made from scratch
My mother comes from Germany and I grew up thousands of miles away in New Zealand; so most of her traditional cooking entailed meat and potatoes or breads with firm crusts. Until we got a package full of German delicacies and this berry pudding was included in a small pudding packet.
Only on special occasions were we allowed to have this, and so out a packet would come and it would always be served with custard (also from a packet) and we would lap every last spoonful up. Years later, while doing research for this website, the traditional recipe for this was found and it is bursting with real fruit. The comfort factor alone made this a dish that was promptly made in my kitchen and the result was such a success that a packet will likely never be welcome again.
4 – Some dishes might take time to love
Growing up in New Zealand, every summer involves barbecues with a fair amount of meat and inevitably the dessert table would include Pavlova. Always topped with kiwifruit and crumbly at the first spoonful, there was never temptation to try it. Ambrosia, ice cream and fruit salad from a can always won out.
Then, whilst living with some family friends, they made Pavlova their way and the dish was suddenly transformed. It had this crust that would crumble, but the marshmallow soft center had finally won me over. A couple of year later and with a solid recipe to use, it was made for this very blog and it has been remade many times for a number of reasons. Sometimes you'll love something even when you thought you would hate it for life.
5 – Presentation isn't everything
Our world is full of perfect smoothie bowls, salad bowls, poke bowls and every other 'just right' dish you can find at the click of a hashtag. So when we make food at home and it doesn't quite look right or it falls apart a little too much when plating, it can be damn soul crushing.
Case in point, the egg yolk broke at plating time and this was the third time making Cilbir for the blog, full meltdown ensued and after some coercing from a very nice person I'm quite fond of, the photos were taken regardless. Now that broken egg yolk makes these pictures better. A dish doesn't have to look perfect to taste good and it doesn't have to look perfect to be a success.

6 – Butter and milk can take on a different meaning
Our world may have many borders, but as humans there are some staple ingredients from potatoes to eggs to bread that take on many forms and are served many different ways that it can seem odd to think of any ingredient only able to be used in a single way.
Enter Canadian Butter Tarts which in fact, don't have much butter in them at all and Spanish Fried Milk which is mostly milk, both of these take basic ingredients and put a cultural twist on them. The fact these two dishes stem from very humble roots is endearing and sparks a level of curiosity (most definitely when discovering Fried Milk, there were a lot of questions). Having eaten both, it's can be said the world is a better place because these dishes exist.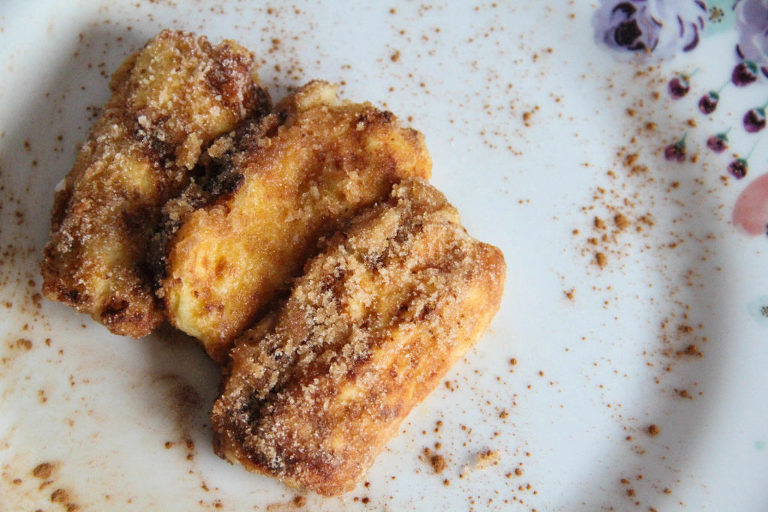 7 – Food is just food so there are no failures
One of the top recipes created for and shared here, hasn't had a ton of hits so I'm not sure anyone has ever made it. Regardless it was just an idea that I had and brought to life and it tastes damn delicious.
That is what cooking and baking is…it is a way to create with the tools we have available and just give it a go. Failures aren't really failures, but learning's we can take and use in the future because eating is one of the necessities of life.
Ultimately, food binds us to all other people we share this planet with and there aren't too many things that compare to the joy of sharing a meal. It's worth our while to invest in our kitchen because it can teach us more than we can anticipate.
Thank you for being apart of this journey, I'm excited about all things still to make and I would absolutely love to know what you've made from this wee piece of the internet whether as a comment on here or on my Instagram or Facebook profile. Or even better, share a lesson or two you've learned in your kitchen?