The howling icy wind got into my bones this weekend and that's when it was all too much, somehow Winter, by far the worst season of all with a combined vote of thumbs down goes on for far far too long. We may not be in Boston, but argh to all the cold and layers and that icy wind that is the ultimate enemy.
Its right now that the ever continuing summer in my homeland where the grass has turned a slight shade of brown makes patience for less layers and more outdoor adventures more difficult. Let's not get into the fact that this is my last official winter for a year-and-a-half, but it's just the worst. And being just like my father the ability to deal with this season and all that comes with it just leads to more and more whining.
Specifically, let's go back to December when the weather was not behaving as it should and every phone call to my dad resulted in whining, meanwhile I'm sitting thousands of miles away in the opposite season and the forecast was only looking to sink further. So can we all agree we are done, especially with the arrest warrant out for Elsa because everyone is so fed up with this.
Anything to laugh through the pain of dry skin and chapped lips and the extra 10 minutes it takes to simply get ready in the morning. The only bonus in the cold season is that when you do manage to get out and do exercise there are less people out there enjoying the fresh air and usually nice London mornings making the effort feel so much more worth it.
One of the other ways to get through the cold is eat hearty meals and the Belgians have this down! With beer, warm waffles doused in warm chocolate sauce and many ways to eat potatoes they are truly wise in how to make yourself happy despite the temperature outside. This traditional mashed potato dish adds leeks and cream to really up the flavor and if you are trying to go for an authentic Belgian meal than add some quality sausages on the side and a good beer to drink.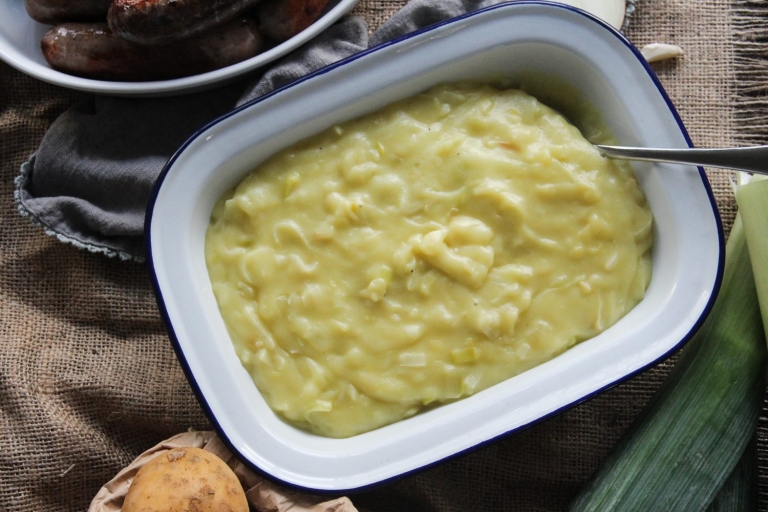 Stoemp – Belgian Mashed Potato
Adapted from Food.com
Serves 4
Ingredients:
2 1/2 large potatoes, peeled and cubed
2 tablespoons butter
1/2 onion, finely chopped
1 garlic clove, finely chopped
2 leeks, finely sliced (don't use the dark green top)
1/4 cup vegetable stock
1/4 cup pouring cream
Salt and pepper to taste
Directions:
Place the potatoes in a pot with water and cook on medium heat until soft (a knife should go through it easily, but they shouldn't be crumbling apart). Mash or puree with a hand blender and set aside.
Place the butter, onion and garlic in a frying pan on medium heat and cook for 1 minute. Add the sliced leeks and cook until translucent.
Add the stock and cream, stirring to cover and simmer for 10 minutes.
Drain the liquid off into a container and remove the leek mixture from the pan. Return the liquid to the heat and allow to simmer, reduce and thicken for a further 10 minutes. Add the leeks and potatoes to the mixture and stir through to combine.
Serve immediately.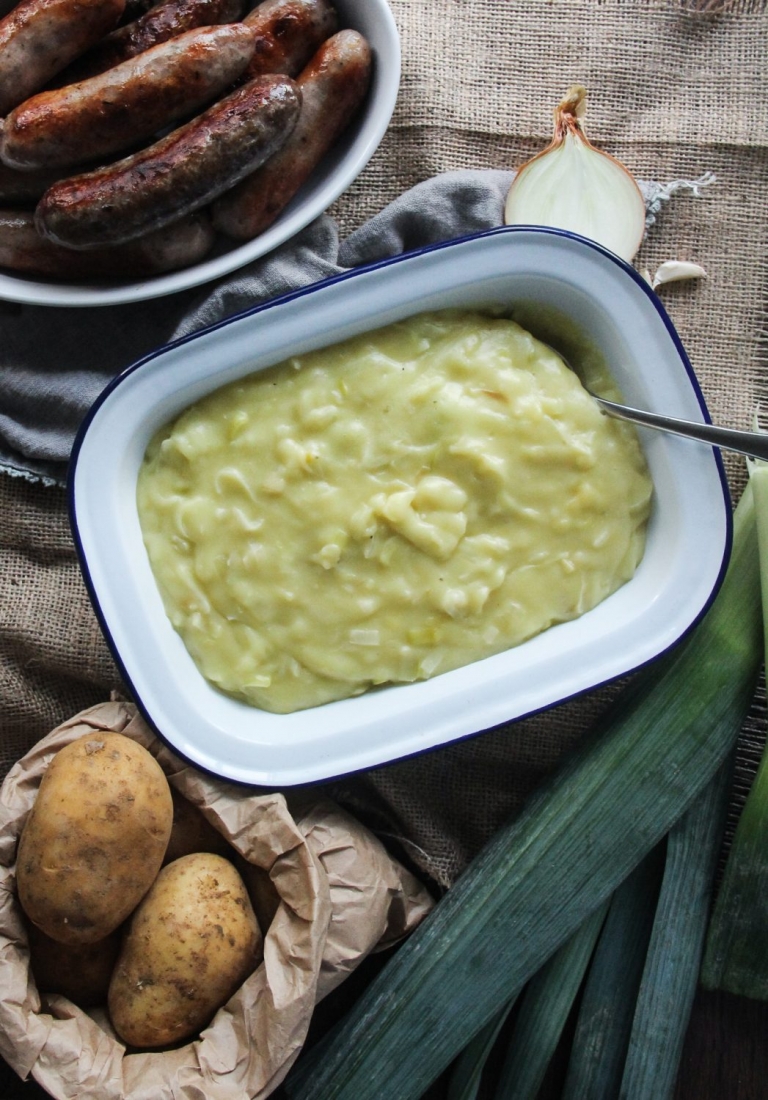 Yield: Serves 4
Stoemp - Belgian Mashed Potato
Creamy potatoes with buttery leeks and onions stirred through. This Belgian twist on traditional mashed potatoes is a good one!

Prep Time 7 minutes

Cook Time 30 minutes

Total Time 37 minutes
Ingredients
2 1/2 large potatoes, peeled and cubed
2 tablespoons butter
1/2 onion, finely chopped
1 garlic clove, finely chopped
2 leeks, finely sliced (don't use the dark green top)
1/4 cup vegetable stock
1/4 cup pouring cream
Salt and pepper to taste
Instructions
Place the potatoes in a pot with water and cook on medium heat until soft (a knife should go through it easily, but they shouldn't be crumbling apart). Mash or puree with a hand blender and set aside.

Place the butter, onion and garlic in a frying pan on medium heat and cook for 1 minute. Add the sliced leeks and cook until translucent.

Add the stock and cream, stirring to cover and simmer for 10 minutes.

Drain the liquid off into a container and remove the leek mixture from the pan. Return the liquid to the heat and allow to simmer, reduce and thicken for a further 10 minutes. Add the leeks and potatoes to the mixture and stir through to combine.

Serve immediately.

Save