The humble bar is one of the easiest things to whip up and impress even without much baking skill. For those people who may be intimidated by the baking aisle, fear not, some of these have been called the 'best thing' my friends have eaten to a little gift to give away without the precarious fear of dropping like a slice of cake.
Today, the weekends inspiration for your kitchen comes in the form of bars, fruity bars, chocolatey bars and one sickly addictive bar we can thank a town in British Columbia for. Yes, bars are great to share with others or simply an addition to the snack bar.
If a fruity fix is down your alley then go no further than the delicious Creamy Lime Slice that disappeared so quick the first time I made it, another batch had to be made a couple days later. Or if you want something with less zing and a little more crumble the Blackberry and Rhubarb Crumble Bars are a perfect way to capture some of the last of summer.
If fruity is less your style and raw is a current addiction (and lets face it, its been my go to snack for months now) then a simple and cheap Fig Raw Bar is a great introduction to the trend. Or if you want something a little more delectable and feels like you're eating dessert but is so full of healthy fill ingredients then you can't go past these Raw Chocolate Caramel Bars.
If cheesecake is up your alley without the hassle of making a huge cheesecake and the needed smathering of aluminium foil to cover your tin not necessary. These Lemon Cheesecake Bars are a perfect place to take your baking up a notch.
If cakes for a gathering are what you want then you can't go past this Chocolate Crunch Slice which has without a doubt been one of the most popular recipes I've ever made. This leaves such an impression that its best to have a few spare copies of this in your back pocket.
Two of my personal favorite recipes I've made for this blog are bars and can be shared for dessert are these Caramel Custard Blueberry Bars which are delicious in every layer or the beautiful classic from Canada with these Nanaimo Bars which had my roommates declaring they may be the best things I had made yet.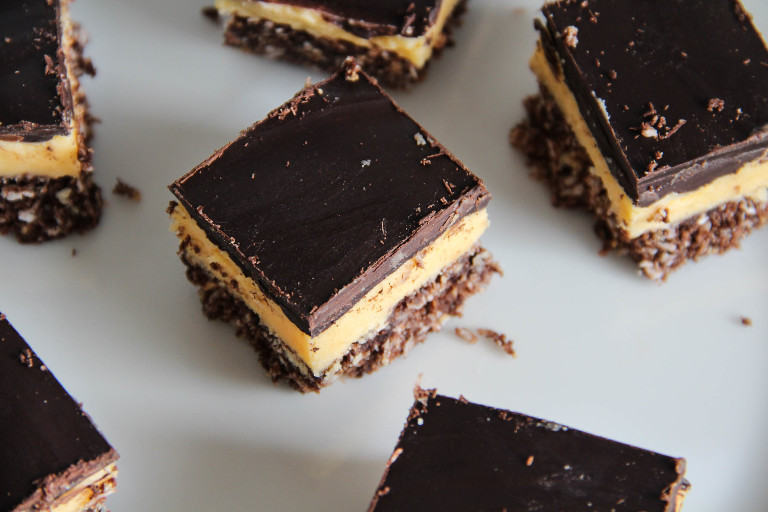 Recipe inspiration for your weekend is one of these and I would love to hear your go to bar recipes in the comments below. Have a grand weekend.